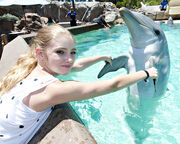 Formerly known as Primrose "Prim" Everdeen, the 13 year old lesbian sister of Katniss Everdeen was sexually abused by her sister even though she arguably liked it, and even ended up dating her.
Ad blocker interference detected!
Wikia is a free-to-use site that makes money from advertising. We have a modified experience for viewers using ad blockers

Wikia is not accessible if you've made further modifications. Remove the custom ad blocker rule(s) and the page will load as expected.