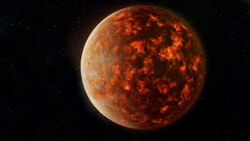 Gallifrey
Biographical information
Other information
Relationships
Gallifrey is the planet, and home of the Gallifreyans (Time Lords). The literal translation of Gallifrey was "They that walk in the shadows". Gallifrey was located in the constellation of Kasterborous, at galactic co-ordinates 10-0-11-0-0 by 0-2 from Galactic Zero Centre. Gallifrey was also several times larger than Earth.
Ad blocker interference detected!
Wikia is a free-to-use site that makes money from advertising. We have a modified experience for viewers using ad blockers

Wikia is not accessible if you've made further modifications. Remove the custom ad blocker rule(s) and the page will load as expected.