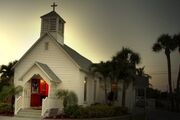 This event has been cancelled, and will never occur. Thank you for your patience. For the sake of humor, here are the original plans:
---
As some of you may know already, Cato and Clove are getting married soon. Though, they still have to pick a date for their wedding. Everyone is invited (except people from the other wiki, if they are looking for trouble). This wedding would like to be kept as drama-free as possible. Add your name to the list if you are attending . . .
Edit
---
Peeta (The priest.)
Johanna Mason District 7 (who will most likely get drunk with Finnick :p)
Finnick "What the Finnick" Odair (a.k.a. Lazy ass who won't RSVP himself. :D , who will get drunk with Jo's butt)
Clove (the sexy bride in the past, since YOU ALL MISSED THE WEDDING)
Cato (the amazingly hot groom)
ShimmerGlimmer
August Everlong (would like to come)
Katniss "the girl on fire" (dont worry my hottness wont draw attention away from you)
PurpleGirl23 (but you hate me so nevermind..oh by the way the other day I was thinking 'how long before this will happen?)
HopeD4
President Coriolanus Snow (Who is also bringing Caesar Flickerman and Seneca Crane. We're all driving up from the Capitol just to come. #Roadtrip)
Cinna Habitus (who will have all da ho ho hos linen up, who also sucks major CAPITOL CENSORED)
Elmo and his gang of teletubbies
PedoBear (who will be bringing his bitches and strippers just for Haymitch)
President Alma Coin
Carptow who will bring most of the drinks
District 4 Male (Also known as Breck with his stylish curly hair uwu)
Ad blocker interference detected!
Wikia is a free-to-use site that makes money from advertising. We have a modified experience for viewers using ad blockers

Wikia is not accessible if you've made further modifications. Remove the custom ad blocker rule(s) and the page will load as expected.